Similarities to Earth-Standards #
There are a number of similarities between measurement standards used by Poseans and those typically used by us humans on Earth. Thus should any form of measurement, for which there is a comparable existent measurement system on Earth, show up at any point in the comic, or on this wiki, it can be logically assumed to be similar in nature without further explanation (unless otherwise stated).
This could possibly have an in-universe explanation as it is known that the first wave of Poseans were souls reborn and thus possessed past memories, which would explain why they had innate concepts of the words for the cardinal directions. Thus it could be assumed that they drew upon similar innate concepts for other systems of measurement.
Time Scale #
Posean clocks appear to operate on cycles of 16 hours, and assuming the clocks operate as they do on earth (completing a revolution for the first and second halves of any given day), then the length of a Posean day can be assumed to be 32 hours long.
Based on information provided by a Posean calendar, a Posean week is still 7 days long and a month is 30 days long. The number of months to a year has yet to have been mentioned within the comic, however the artist (Trig) has gone on record as saying that there are exactly 16 months to a Posean year; bearing similarities to the human fascination with the number 12. As each month is exactly 30 days long and there are 16 of them, that means that a Posean year is 480 days.
With a bit of math we can also learn that the time skip between the start of the comic and the time period that the Dreamer arc takes place in is comparable to 1999 Earth years.
Geography #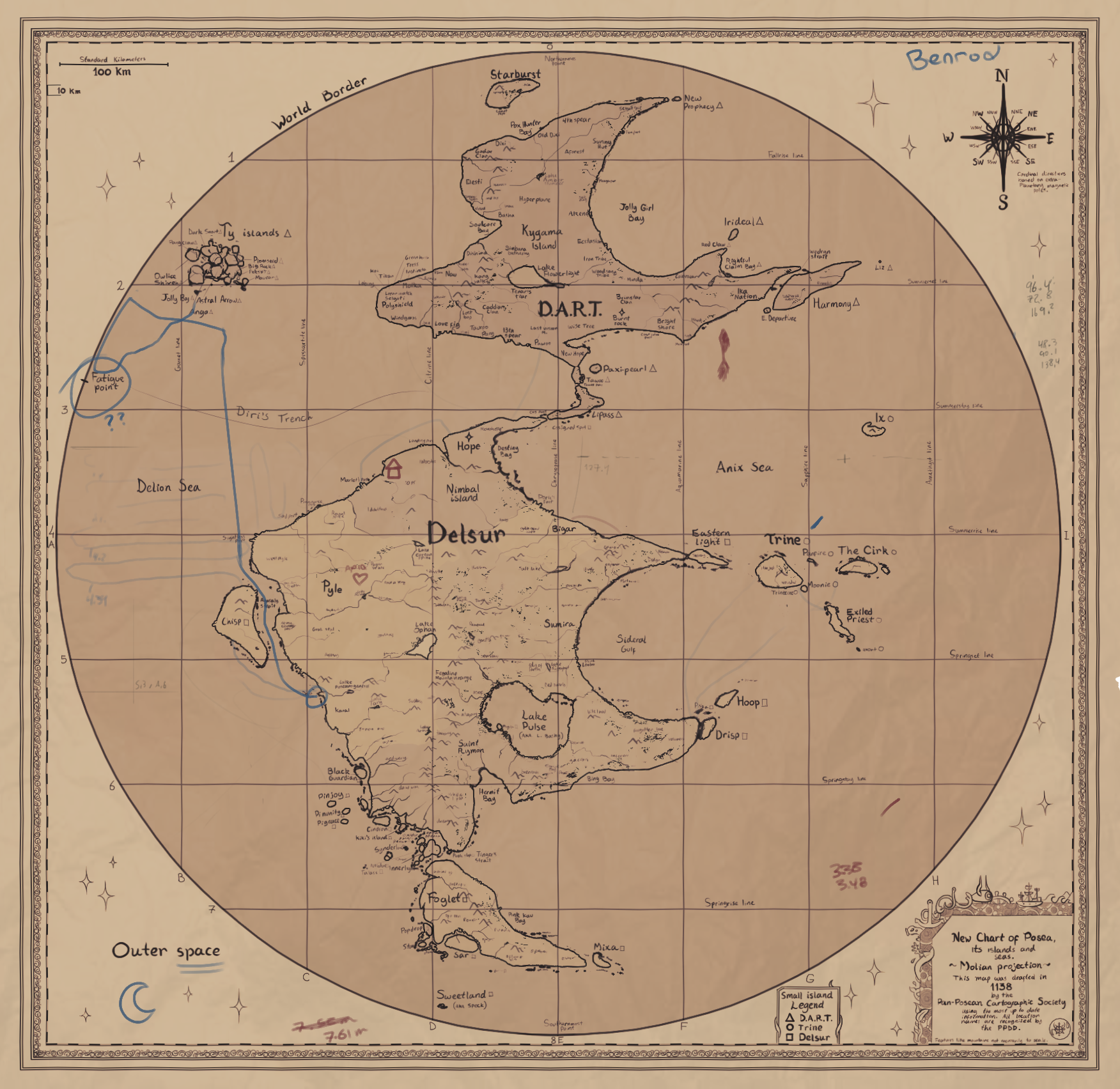 Posea is comprised of two semi-connected continents, D.A.R.T. to the north and Delsur to the south, surrounded by mostly ocean and a few islands all of which being contained within a walled perimeter, which can be visibly seen on this page and confirmed on this one. This Ellipse is approximately 922.9 kilometers (km) in diameter east to west & 903.5km north to south, meaning the perimeter is ~2868km in circumference, and the total area contained within is ~654,897 square km. Only about 1/4th of the total area is made up of land, thus the livable area of Posea is ~163,724 square km, which is somewhere in between Uruguay and Suriname (if you're looking for a real world comparison) and is about 0.11% of Earth's total landmass. This also means that the total water area of Posea is ~491,172 square km, which is about 0.13% of Earth's water mass.
Astute observers might also have noticed that the map listed above claims that the area beyond the perimeter wall is "Outer Space" going as far as to include depictions of a moon and stars to align it with what we might associate typically with Outer Space. This view is currently seen the most here. However it is not confirmed if what lies beyond the boundary is just the void of space, as on this page a crack can be seen in the boundary from which a bright light shines through, which destroys the illusion of there being nothing beyond.
Religion & Politics #
Since the Elestians left, Posea has begun segmenting itself in various political & religious directions. At the time of the Dreamers Saga, the nation of Delsur (capital Hope) is at war with a faction to the north called the Democratic Alliance of Revolutionary Tribes or DART, who's symbol is an arrow & its associated color is orange. This conflict has caused numerous problems for the region including an Orphan-crisis and a Famine. The Hope government appears to be attempting to combat these two issues via a number of limited social policies that include a foster systems for the orphans, and a charity-quota for produce merchants. However, these policies seem to have little effect on the hearts and minds of the Hope citizens as DART sympathizers can be seen very frequently among crowds. This is despite the fact that DART itself is also war-torn, its own tribes fighting against one another to assume dominance by assassinating political leaders.
In terms of religion, only three groups have been mentioned thus far: Elestiology, Dantianism, and (arguably) the Birdspeekers. Elestiology seems to focus on the worship of Elestians & their tools in a god-like fashion. However, this particular belief is an oft discussed topic as many question why they left, if they'll return, their capacity for flaw, their intentions with creating Posea, and other relevant topics. Dantianism, based on the Dantian book of Dreams, is likely a recording of the first Poseans' dreams that depict various guilts and fears from their past lives, such as Ka's cube-dream. Dantianism teaches that there are four other worlds besides Posea: Elestia, Teecho, Sycaba, and Morg, which are the origins of all the founders' souls. It can be inferred that Lopa hails from Sycaba as her past-life flashbacks and the Sycaba card's design have numerous details in common. Likewise it can be assumed that Webings hails from Morg, as the trees in his past-life flashback and the card's are similar in design. Lastly, the Birdspeakers are the last surviving tribe of hunter gatherers who live out in the Ty Islands who have formed mutualistic relationships with the native birds. Fans of their culture seek to learn birdspeech on their own in hopes of one day joining their ranks and living in harmony with nature.
Technology #
At the time of the Dreamers Saga, the Poseans appear to have mastered glass-working, metallurgy, and combustion-powered trains, but not electricity. This puts their society at a level of development comparable to late 19th century Earth's industrial-era. Notably, Poseans refer to an unfamiliar phenomena wherein physical contact between some individuals triggers a shared hallucination, which they refer to as "static electricity".